John the Plumber's Blog
Plumbing Articles from Kansas City, MO & KS
9 Silent Signs of a Drain Clog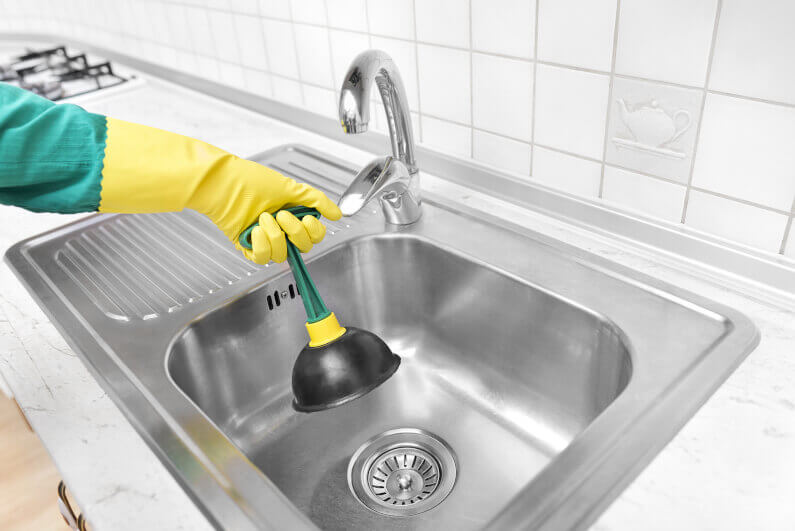 A drain clog can cause big problems in your home, especially if you don't detect it right away.
Taking care of your plumbing system should be at the top of your priorities as a homeowner. With proper plumbing maintenance, you can avoid major problems like burst pipes and water pressure issues. When it comes to a clogged drain, however, it's bound to happen at some point.
We put our pipes through a lot. The key to dealing with clogged drains is early detection. The sooner you find the clog, the sooner you can take whatever measures are needed to unclog it.
Sadly, not all plumbing problems come with dripping faucets and gurgling sinks, so you must pay attention. In this post, we're going to tell you nine silent signs of a drain clog, so keep reading and you'll be able to track down the source of your clog and deal with it ASAP.
1. Standing Water
One clear sign that you've got a clogged pipe is when there's standing water in your sink or tub. Even some of your appliances, like the dishwasher or washing machine, may end up with pooled water if there's a clog somewhere in your pipes.
This is more often than not the result of debris going into the drain over a sustained period. You need to ensure you're cleaning the drains regularly, which is an essential aspect of plumbing maintenance.
2. Suspicious Smells
When you start smelling sewage in your home, there's a clear indicator that you've got a plumbing problem. A pipe clogged with food or grease will quickly start to give off unpleasant odors. The same goes with the plumbing lines – if they're clogged with waste, you're going to notice quickly.
You never want things decomposing in your drains. You can try chemicals or a drain snake to break the materials apart, but if that doesn't work, you'll need to call a professional.
3. Slow Draining
As you're washing your hands or doing the dishes, pay attention to how the water drains. The water should drain just as quickly as it comes out of the faucet, so if it's slowly pooling up, you've definitely got a clogged drain.
This isn't as serious as having standing water in the sink, but it's a problem that comes before. If you don't get this dealt with immediately, you're going to end up with standing water in the sink, as well as those awful smells we just described above.
4. Poorly Flushing Toilet
Some water backups are relatively manageable, but anything with the toilet can become unpleasant fast. There are a few issues that you might experience with your toilet.
Firstly, if it's not flushing properly, or you're having to flush it multiple times to get waste down, there's something clogging your pipes. Eventually, you may end up with a toilet that overflows on a regular basis.
Not only does this create a huge mess, but it can also cause water damage and leave you vulnerable to potentially harmful bacteria. If you want to avoid expensive repairs and illness, it's best to deal with your toilet as soon as you notice flushing issues.
5. Water Flows Up
Does your water flow up the drain instead of down?
This could be a minor or a major issue depending on the root cause of the problem. If water is flowing out of your drain and won't stop, you may have damage to your water or sewer line.
If the drain has a small amount of gurgling water flowing out of it, you're probably dealing with a leak. Try your hand with a drain snake before contacting your local plumber.
6. Stains Around Drains
Look around your drain pipes – do you see any brownish stains? You may not always notice when your pipes are draining slowly, but they'll almost always leave behind some residue when they do. This is sediment from the dirty water.
These types of stains are a strong indicator that you've got a plumbing problem, which is most likely a clogged drain. If it gets to the point where it's staining the tub or sink, it's probably been going on for a while and should be dealt with soon.
7. Debris In Water
One of the more shocking signs of a problem somewhere in your plumbing system is when you turn the tap on and discolored water comes flowing out. More than likely, you're dealing with air in your pipes, rust, or corrosion – it all depends on the color of the water.
In other circumstances, you may be dealing with a buildup of debris and sediment in your aerator. You'll have to unscrew the faucet components and clean them out. If this doesn't help, you'll need professional service.
8. Insect Attraction
Everyone's used to dealing with fruit flies, especially in the summer months when it's hot and humid in the kitchen. If these little pests are hovering around your empty sink, there's got to be a reason for it.
Flies are attracted to decomposing food, so this is probably time to give your drains a much-needed cleaning. If you're successful, they'll find another place to hang out.
9. Frequently Clogged Drain
It can be easy to get used to unclogging a sink or a toilet, but if it keeps happening, there's clearly a bigger issue at play. At some point, the clogs are going to get worse and you're going to wish you had a professional inspection earlier.
Part of good plumbing care is paying attention to the frequency of your clogs. If they increase, it's best to have a plumber take a more thorough look at your pipes instead, which will solve the long-term issue.
Getting Professional Help with Your Drain Clog
The odd drain clog is an easy fix for most homeowners. It's when you start experiencing them more often and notice some of these more serious symptoms that you need to get professional help. The sooner you call a plumber, the more money you'll save on larger repairs down the road.
John The Plumber is Kansas City's premier sewer line and drain cleaning service with over 30 years of experience. To unclog your drains ASAP, contact us today and book an appointment.
Serving Kansas City, Overland Park, Independence, Shawnee, & Surrounding Area's
© 2017-2023 JohnthePlumberKansasCity.com
– All rights reserved. –
Information on this website may not be re-used without prior written consent from John the Plumber LLC.
Monday-Saturday: 8:00am to 8:00pm
Sunday: Closed Normal Appointments
Emergency Client Service Available
Kansas & Missouri Licensed, Bonded, Insured
Master Plumbing Contractor 204249