John the Plumber's Blog
Plumbing Articles from Kansas City, MO & KS
7 Signs You Need a New Sump Pump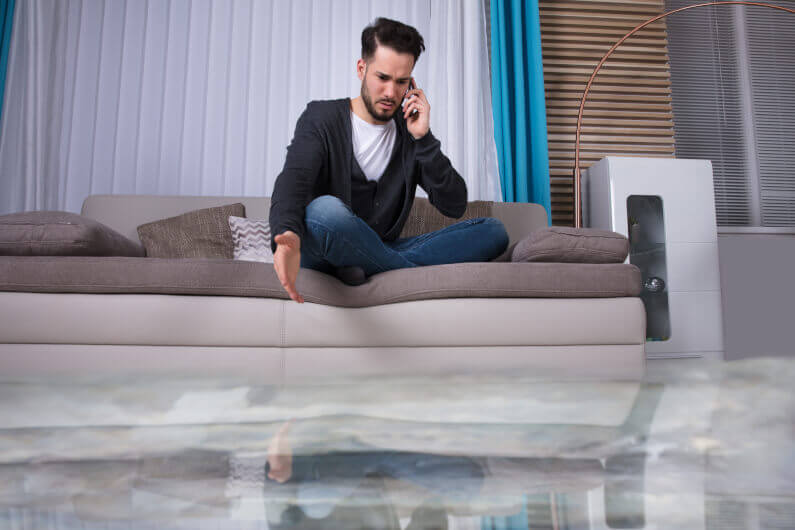 There's nothing more pleasant than the sound of rain drumming on the roof. The second most pleasant sound for a homeowner amid a good downpour is the hum of a sump pump kicking in.
If you live in an environment where water can easily flood your basement or crawl space, a sump pump is an essential part of your domestic hardware. Without it, you'll find yourself at risk of a flooded home and ultimately water damage and mold.
How do you know, though, if your sump pump is about to die? Do you just wait until the day that the water begins to flood your basement and the pump doesn't work?
By the time you've finished reading this article, you will understand the telltale signs that it's time to replace your sump pump.
1. Strange Noises
From the day you have a plumber conduct a sump pump installation, you'll recognize the proper sound of a running sump pump. You should hear a gentle hum when the pump kicks in and an abrupt stop when it stops.
If you hear anything other than that gentle hum, you have a problem. Your sump pump components could be wearing out, or something within the pump could be damaged.
Your sump pump should not vibrate excessively. If you notice this, you most likely have a problem with the sump pump's impeller and need a professional plumber to either repair the pump or replace it completely.
There's a good chance that if your impeller is failing, you are doomed to have more problems and thus should just replace the pump.
2. Pump Runs Continuously
If your pump won't turn off, you most likely have a problem with your float switch and need a sump pump replacement.
Every pump has a float arm attached to it. When the float arm raises, the pump kicks in. When the float arm slowly goes down next to the pump as the water lowers, then the pump switches off.
Sometimes a pump won't quit because it just can't keep up with the amount of water coming in. In those cases, your pump will eventually burn out, and you'll need a pump replacement immediately.
This is a good reason to have a backup pump on hand. You can purchase a battery-operated backup or a hydro pump that you put on top of your old pump. When the water rises, the hydro pump will kick in as water flows through it.
3. Pump Cycles Off and On Continuously
Sometimes the pump will cycle off quickly and then cycle back on immediately. A constant on-off-on-off pattern means you have a problem with your pump. You most likely have an issue with your float switch.
You could also have an electrical short in your home writing that has caused problems with your sump pump wiring.
All of these require you to look into purchasing a new sump pump.
4. Visible Wear and Tear
Periodically take a visual evaluation of your sump pump. Remove the sump pump cover, and examine the pump carefully, especially for corrosion.
If the pump looks old and worn but continues to run, you need a backup plan because the pump is nearing the end of its life. You'll notice brown material on the battery terminals that will eventually cause problems with water flow in the pump's drainable system.
At this point, you should purchase both a backup sump pump and the best sump pump alarm you can find. This way if your pump quits in the middle of the night, you'll hear the alarm and be able to quickly replace the pump on the fly.
5. Pump Is Ill Used
A sump pump that doesn't need to run can actually wear out as well. Pumps require periodical use. When a pump sits insert for a long period of time, it just doesn't always work as well.
Furthermore, if you have an old sump pump, you may have problems. Pumps typically last 10 years. So if your pump is this old, you should have a backup ready and a phone ready to call for sump pump repair in Kansas City.
6. Improper Installation
If you or a plumber did not properly install your equipment, you run the risk of needing a new pump sooner rather than later. If you move into a home where the pump is already there, have your own contractor inspect the pump to make sure it's in perfect running order. The contractor will also be able to determine if the pump is the right size.
If your technician believes your current pump has some problems, replace it. If you do not, you may end up having a mold problem in your crawl space or basement because of the excess moisture.
7. Pump Won't Kick In
All of these problems can lead to the final telltale sign that you need a new pump and emergency plumbing services. The day your pump won't kick in, you need a new sump pump.
The sump pump could fail because the motor broke down due to electrical problems. Sometimes you may have a broken or clogged drain hose that causes the malfunction.
An experienced plumber will determine the root of the problem right away and either repair or replace your sump pump.
Replace Your Sump Pump Confidently
Now that you understand the signs of a failing sump pump, you can take action. Listen to your pump carefully, and have a professional evaluate your septic system and sump pump.
Then follow that expert's opinion.
Do you need a sump pump expert? If so, contact us. Our professionals are ready to help Kansas City residential and commercial customers keep their homes and buildings flood water free.
Give us a call today.
Serving Kansas City, Overland Park, Independence, Shawnee, & Surrounding Area's
© 2017-2023 JohnthePlumberKansasCity.com
– All rights reserved. –
Information on this website may not be re-used without prior written consent from John the Plumber LLC.
Monday-Saturday: 8:00am to 8:00pm
Sunday: Closed Normal Appointments
Emergency Client Service Available
Kansas & Missouri Licensed, Bonded, Insured
Master Plumbing Contractor 204249