John the Plumber's Blog
Plumbing Articles from Kansas City, MO & KS
Sewer Line Repair: Common Homeowner Issues in Kansas City, MO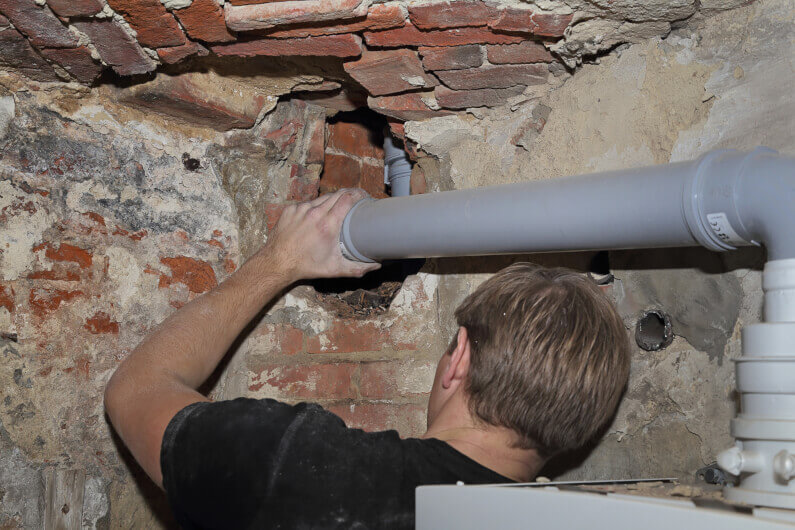 One of the most memorable days in your life will be the day your sewer backs up into your home. Not every homeowner has this happen. But if you're one of the unlucky ones that get to experience the smell of sewer in your residence, you'll never forget that day.
You can avoid such problems with proper sewer line repair service and maintenance. By the time you've finished reading this article, you will be fully prepared to avoid this disaster and not become one of the unfortunate people who deal with sewage in their homes.
What Is a Sewer Line?
Your main line is also known as your sewer line. This is the piping that stems from your house and connects to either the city sewer line or your septic tank. Ultimately, all of your drains, whether they're from a sink in your kitchen or the toilet in your bathroom, dump into the main line.
If your main line backs up, you need to know where your cleanout is located. The drain cleanout is the access point to your main sewer line. You will find it somewhere outside your house, and it looks like a capped pipe that sticks out of the ground.
Common Sewer Line Problems
Kansas City and the surrounding area have environmental and geographical features that, while beautiful, can wreak havoc on a sewer line. If you know what to look for, you can avoid sewer line problems. Here are the most common sewer line problems
Saggy Sewer Lines
When you have a low area in your yard, your sewer line could sag. This sagging line can collect debris easily, which can then disrupt the flow of water and even block the flow altogether. The low area often results from poor sewer installation and layout.
You will also experience low areas in your yard when you have a major weather event such as a flood that shifts the soil and your line.
Tree Roots
Trees dot the Kansas City area. Because 68 percent of Kansas residents live in a Tree City USA community, there's a great chance that you have a tree in your yard in Kansas City. If you have a tree, you also have tree roots, the hidden enemy of sewer lines.
Tree roots, over time, will infiltrate your sewer lines. The roots will snag debris as it passes by and eventually creates a clog. These tree roots can shift the pipes, causing them to offset or not line up correctly.
Grease
Every time you pour grease down your drain, you run the risk of creating a clog. While the grease may be hot when you dump it down the drain, it will cool as it passes through the pipe and then accumulates on the sides of the pipes. Eventually, the grease will accumulate and clog your drain pipes.
Cracking
Pressure around pipes can cause them to crack at or near the fittings. Cracks on the side and top of a pipe are not as severe as those at the bottom of a pipe. You will need a liner to prevent the pipe from leaking.
In the worst-case scenario, a pipe can collapse, and you'll need to call a Kansas City sewer specialist immediately.
Basic Sewer Line Maintenance
While a professional sewer technician can repair your blocked or broken sewer line, you can do a few things to make sure the line stays healthy. These are some rudimentary sewer line maintenance tips.
Drain Liquids Only
Keep solids out of your drain. It's easy to let coffee grounds and small pieces of food go down the kitchen sink drain. But these will eventually accumulate and clog the drain.
As mentioned earlier, don't dump grease or paint down the drain either.
Flush Only Toilet Paper and Waste
Do not flush facial tissues or paper towels. These materials weren't designed for a sewer system, and they will not adequately dissolve. Flush only waste and toilet paper.
Make sure you use toilet paper that dissolves in the pipes as well. You can test your toilet paper by leaving a square in the toilet bowl for an hour. If the square is intact once an hour has passed, then get different toilet paper.
Flush Pipes Monthly
You can keep your pipes healthy by flushing them monthly. Put a stopper in the sinks and then fill them with water. Then pull out the stopper and let the water rush through the pipes.
As you're doing this, flush the toilets as well. This will help loosen debris and flush the lines adequately if you do it once a month.
Signs of a Sewer Line Problem
You will know you have a sewer line problem when sewage starts to back up through your drain. But you can spot the problem before this smelly issue takes hold. Here are a few common signs that your main sewer line is nearly clogged.
Multiple drains running slowly
Water backing up into other drains
Gurgling sounds as you run water down the drain, run your washing machine, or flush the toilet
Sewage odors rising from the drains
The sewage odors are a common tell, especially if you can smell them on the lower levels of your home. You may have sewage water backing up, and you should call a sewer line repair in Kansas City immediately.
Sewer Line Repair Service Costs
In Kansas City, sewer line repair stems from $50 to $250 per foot of sewer line. If you need to install an entirely new sewer line, expect to pay between $1,200 and $4,600.
If you don't need a repair but simply need your drain cleaned, the plumber will use a tool called a snake. They will send a camera down the pipe first to see what the clog looks like. Then they will run their snake into the drain.
The snake is a long coil with a small drill on the end. The plumber will either mechanically or manually turn the drill to break through the clog. Basic drain cleaning costs around $200 in Kansas City.
Finding Sewer Line Repair in Kansas City
Don't stress out when you need a sewer line repair service. Just be aware of the signs, and then if you spot them, call a professional sewer line repair in Kansas City.
Look specifically for a Kansas City technician because they will best understand the environment that can cause problems with your sewer line.
Do you need a professional to evaluate your sewer system? If so, contact us. Our technicians are ready to help you with all your sewer needs.
Serving Kansas City, Overland Park, Independence, Shawnee, & Surrounding Area's
© 2017-2023 JohnthePlumberKansasCity.com
– All rights reserved. –
Information on this website may not be re-used without prior written consent from John the Plumber LLC.
Monday-Saturday: 8:00am to 8:00pm
Sunday: Closed Normal Appointments
Emergency Client Service Available
Kansas & Missouri Licensed, Bonded, Insured
Master Plumbing Contractor 204249