John the Plumber's Blog
Plumbing Articles from Kansas City, MO & KS
7 Reasons Why You Should Not Be Installing a Gas Water Heater Yourself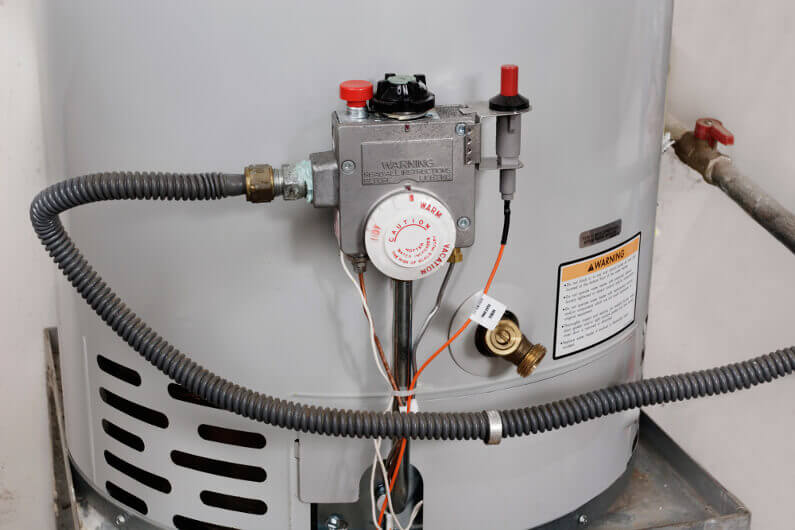 If you're investing in a fixer-upper or simply looking for ways to save money by taking on home improvement projects yourself, there are plenty of things you can do as the homeowner in the way of repairs and improvements.
One project that you want to make sure you know all about is installing a gas water heater yourself. There's a lot of knowledge that goes into doing this job right so that you don't injure yourself or others, cause expensive damages or get into a legal problem in the future.
Here are 7 reasons why you might want to reconsider installing a gas water heater yourself:
1. Installing a Gas Water Heater Yourself Is a Safety Issue
If you're planning on installing a gas water heater yourself, you should know that there's a significant safety risk in doing so. Improper installation can lead to serious injury. If the temperature of the tank is off or if the pressure relief is unable to function due to improper installation, an explosion can occur.
Scalding hot water can injure you and those nearby and the resulting water damage can result in thousands of dollars of costs. And while many homeowner's insurance policies cover water damage to an extent, you may find that your policy negates any water damage caused by a water heater installed by anyone other than a licensed professional.
It's also worth noting that water heater warranties is void if the installation is performed by someone who isn't a licensed plumber. So if you attempt to install a heater on your own and the heater becomes damaged in the process, you'll have to take the hit out of your own pocket.
2. You Likely Don't Possess the Skills and Knowledge of a Trained Professional
Licensed plumbers have undergone training and clocked in years of experience when it comes to installing water heaters. They understand the differences in installing a gas vs. an electric heater or a tank vs. a tankless heater. Their skills and knowledge include an understanding of building codes, state regulations, electrical issues, the surrounding carpentry, and much more.
Plus, licensed plumbers are insured, so if they make a mistake during the installation process, their plumbing company is responsible for the damages instead of the homeowner. It's much less risky to rely on someone who is licensed, experienced, and insured to install your heater for you.
3. You May End Up Buying the Wrong Size Heater
When it comes to installing a gas water heater yourself, size matters. The size of your tank determines the tank's capacity. The standard 2.5 bathrooms, 4 resident person home will be served well by a 50-gallon water heater. But, you might be a family that does a lot of laundry or takes lots of long showers in which case, a 60-gallon tank might be better suited for your situation.
Generally speaking, bigger homes usually require bigger water heaters. There are even some homes with several water heaters installed to take care of all their hot water needs. Smaller homes with 2 to 3 inhabitants can do fine with a 30 or 40-gallon tank. But if you try to install a tank that's too small than you realized you'd need, it will run all the time trying to keep up with demand which will lead it to wear out much faster than it ought to.
4. You Might Install Your Water Heater in the Wrong Location
When installing a water heater, it can't be done just anywhere you'd like. Nearly every city has a code for where water heaters are allowed to be installed. Some commonly unapproved spots include rooms that are used as storage closets or in difficult locations such as attics.
There must be an unobstructed passageway of continuous flooring leading to the water heater. Keep in mind that many newer models of water heaters are wider and taller than older models. Your best bet is to pass the task off to a licensed professional.
5. Your Lack of a Plumbing Permit
Many people who like to take the DIY route don't like the idea of bothering with obtaining a permit for their home improvement projects, including installing a gas water heater yourself. Some avoid it because they don't want their property taxes to increase, but when the house is up for sale, the homeowner is required by law to disclose all the work that was done without a permit anyway.
Avoid the legal issues that come with work completed with no permit by getting help installing your water heater.
6. Forgetting to Add the Drain Pan Underneath the Water Heater
In many states, a residential water heater has to also have a waterproof drain pan installed underneath. This pan must also have an attached drain pipe that runs outside the house to drain any water should the tank experience a failure. The pan needs to also be corrosion-proof and able to function without obstruction. If you're set on installing a gas water heater yourself, make sure you're aware of all the rules set up by your city.
7. The Water Heater Power and Gas Shutoffs Aren't Visible
When installing a water heater that runs on gas or electricity, no heat can is applied until the heater is fully installed and filled with water. To make sure the power stays off you need to be able to see the shutoff switch clearly while installing the heater.
You can always use the nearby circuit breaker to ensure that the power is off. To apply heat to an empty tank is known as "dry firing" and it causes damage to the tank. This is another issue to keep in mind if you want to install the tank yourself.
Turn to the Pros
Instead of bothering with installing a gas water heater yourself, turn to the plumbing pros in your area to get the job done quickly and correctly without the hassle. We've been serving the Kansas City area for more than 3 decades and we're here to serve you as well. Contact us today to set up your appointment.
Serving Kansas City, Overland Park, Independence, Shawnee, & Surrounding Area's
© 2017-2023 JohnthePlumberKansasCity.com
– All rights reserved. –
Information on this website may not be re-used without prior written consent from John the Plumber LLC.
Monday-Saturday: 8:00am to 8:00pm
Sunday: Closed Normal Appointments
Emergency Client Service Available
Kansas & Missouri Licensed, Bonded, Insured
Master Plumbing Contractor 204249