John the Plumber's Blog
Plumbing Articles from Kansas City, MO & KS
Do It Yourself Plumbing vs. Hiring a Pro: How to Know What to Do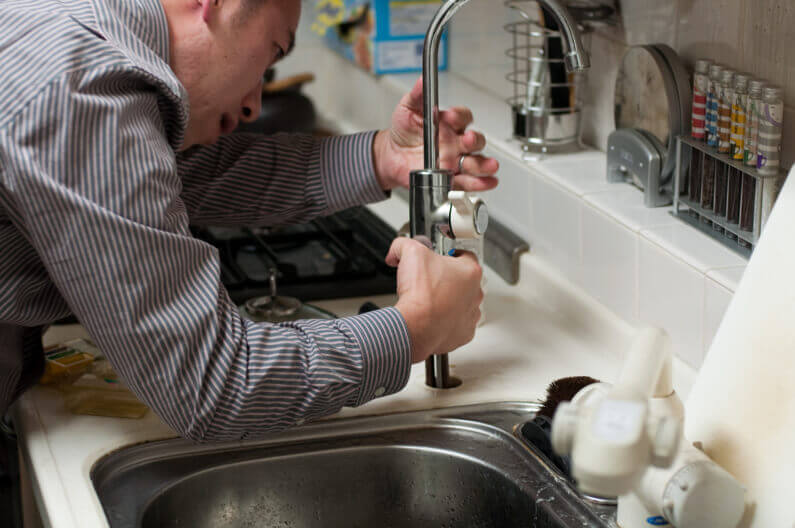 There are over 480,000 plumbers in the United States.
Plumbers build and repair water supply lines, fixtures, and related appliances to keep water flowing smoothly into homes.
If you have a minor repair, you may have considered do it yourself plumbing. While this seems like an economical option, it could end up costing you more if you are not handy.
When is it worth investing in professional plumbing services?
Let's take a look.
1. Faucets
Plumbing that is outside your walls is considered minor. If you are comfortable putting in a new faucet, you can try it yourself.
Putting in a new faucet involves shutting off hot and cold water valves. You will need to remove the old faucet and replace it with a new one. Some will come with direction kits, which you may be able to find on the Internet.
You will need the help of a professional if valve connections are damaged or other repairs are needed before the faucet can be replaced. The new faucet connection should line up with the hole in your sink and point in the same direction as your old one.
A plumber can help you spot problems you may know about, such as mold on your piping. They can help you keep your project on schedule and budget.
If you are not handy, trying the problem yourself could cause additional damage that will incur more expenses. If you do not feel comfortable changing a faucet, it may be time to enlist the help of a professional.
2. Toilet
If your toilet gets clogged, most folks can try plunging it themselves. You can also try a liquid drain-unclogging agent from a hardware store. Beware, however, that this can erode your pipes.
You may also be able to replace toilet hardware, such as faulty chains, clogs, or seals. Sometimes, do-it-yourself kits can get purchased at a hardware store.
If your toilet is overflowing and you can't fix it, it is time to call a plumber. You will also need a professional if you are planning to replace your toilet completely.
3. Replacing a Washing Machine Hose
If you are handy, you may want to try replacing a washing machine hose yourself. A hose that is not replaced can leak up to 500 gallons of water per hour.
When replacing the hose, you will want to turn off the water supply and disconnect the hose from the valves and water. Next, attach the new hose to the washer. Finally, you can turn the valves and water supply back on.
If you don't know where your water supply or valves are, it is time to call a plumber.
4. Installing New Plumbing
If you are moving into a new property and are unsure if your plumbing is up to code, a professional can help you find common mistakes.
If you are building a new home, you will need a plumber who knows the code in our area. It should also be a professional who understands residential system design.
If you do not get the proper permits and adhere to building codes when installing new plumbing, you could get heftily fined. You may even have to tear down walls, countertops, or tiles before selling your home. The right plumber will help you keep everything legal before you move in.
Putting in a new dishwasher, for example, could cause floods and leaks. Any new fixtures you install could require permits. A professional can help you do this right.
Water heaters and furnaces should also get installed professionally. You should also hire one when putting in a sprinkler system or sump pump. A professional can clean, check, and repair these important systems regularly.
5. Pipe Problems
Frozen pipes need to get handled carefully to prevent bursting and water damage. You should leave this to a plumber.
If a pipe breaks, a professional can help you determine how it happened and inspect your home's heating system.
6. Choosing The Right Plumber
Most plumbers will charge an hourly rate anywhere from $50 to $200. You will be paying for parts on top of the labor fee. Other plumbers can charge a flat rate, such as $300, that will include parts like faucets or drains. The price varies greatly depending upon your location and the extent of your damage.
Ask friends and family for recommendations before beginning your search. Many times, you can check online for reviews and get a good picture of the type of company you will be dealing with. Other good sources for recommendations include contractors and real estate agents.
You can also look at the Better Business Bureau to see if the company has any complaints against it.
Most states require plumbers to be licensed. Your plumber should provide you with a license number, and a number to call. When you call, you can verify that the license is current and that there are no complaints against it.
You will also want to know that your plumber holds a workman's comp policy. Most states require a minimum of $500,000 in liability insurance.
Do It Yourself Plumbing
If you are handy, do it yourself plumbing can save you a great deal in time and money. However, if you are unsure of the location of water valves within your home, or uncomfortable with certain projects, it is time to call a plumber. They can fix your problems thoroughly so you will not have to call them back again soon.
For more information, contact us today.
Serving Kansas City, Overland Park, Independence, Shawnee, & Surrounding Area's
© 2017-2023 JohnthePlumberKansasCity.com
– All rights reserved. –
Information on this website may not be re-used without prior written consent from John the Plumber LLC.
Monday-Saturday: 8:00am to 8:00pm
Sunday: Closed Normal Appointments
Emergency Client Service Available
Kansas & Missouri Licensed, Bonded, Insured
Master Plumbing Contractor 204249