John the Plumber's Blog
Plumbing Articles from Kansas City, MO & KS
Do You Need a Plumber if a Toilet Keeps Clogging? Here's How to Tell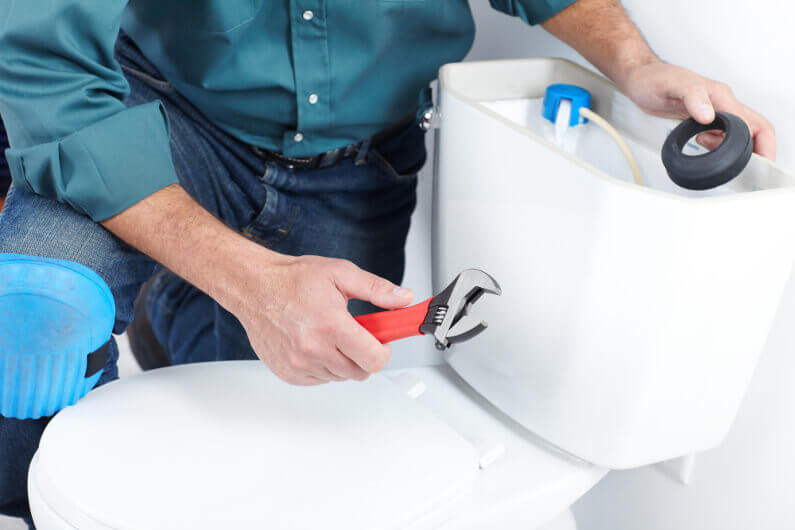 We all know that certain things shouldn't go down the toilet. They might hurt our environment or lead to blockages in your sewer system.
But even if you're very careful about what you flush down your toilet, sometimes clogs happen. A clogged toilet not only causes headaches, but it may also indicate a bigger problem in your plumbing system.
Keeping a plunger on hand is always a good idea, but what if your toilet keeps clogging?
No matter how many times you fix the issue, it keeps happening. At this point, you might wonder if it's worth it to do it yourself. However, using the wrong methods to fix a clogged toilet can lead to irreparable damage to both your toilet and your plumbing system.
Find out what to avoid and when it's time to call in a professional plumber.
Avoid Disaster by Taking These Steps First
When your toilet clogs, it's important to take action right away to prevent big messes and costly damage. After all, you don't want toilet water spilling onto your bathroom floor and causing water damage.
Before you think about picking up the phone to call a plumber, take these steps to keep your home safe and dry.
Don't Flush a Second Time
Is your toilet clogged again?
It might be tempting to flush a second time, but if your toilet doesn't clear after your first attempt, don't flush it twice. This causes overflow to spill out and adds extra water to the toilet bowl.
Instead, take the lid off your toilet tank and close the flapper. A flapper is the circular-shaped rubber stopper at the bottom of the tank.
Keep the Floor Dry
If your toilet is overflowing, it's critical to keep your floor dry.
Find as many paper towels and rags as you can to place around the base of the toilet and soak up any overflowing water. Turning on the bathroom exhaust fan helps prevent any odor.
Remove Obstructions
Families with kids may often find toys or other objects stuck in the toilet. These items often lead to a clog.
Wondering how to get a toy out of the toilet?
First, remove the water from the toilet bowl. Depending on how deep the obstruction goes, you should be able to reach in and pull it out with your hand. If not, avoid using excessive force if you have to use the plunger.
Before Calling a Plumber Consider the Situation
Before you call in a professional, you can try to fix the issue yourself. There are pros and cons to doing it on your own, so consider the risks first.
There are some issues that you should always leave to the pros.
If it seems like a simple clog, you can try to fix it on your own. However, if your toilet keeps getting clogged you likely have a bigger problem on your hands. In this case, you should call a plumber to inspect your plumbing system.
So how do you know when it's safe to try to do it yourself?
When You Can Fix It Yourself
Remember, using the wrong method to fix a clog can result in costly repairs and damages, but if you're set on fixing it on your own, there are some things to keep in mind.
If you know how to fix a clog, you can do it yourself. However, know your limits and try to avoid a plumbing disaster.
Grab the Right Tools
First, always have the proper tools for the job. For example, a pair of rubber gloves help keep your hands and arms clean during the process.
You also want to make sure you have the right plunger.
Think about buying a higher-end plunger instead of a cheap one. When it comes down to it, poorly made plungers don't have enough suction to do the job right. A ball-shaped plunger or one with a bottom flange work best.
Know What You're Doing
Only try to tackle the problem if you know what you're doing. If you don't and you make a mistake, you could permanently damage your system.
Always ask yourself, is a DIY job worth the risk of expensive repairs or a wastewater mess?
Even if you're confident you know how to tackle a clog, it may not be worth the extra effort. If you keep having clogs, the issue probably lies deeper than your toilet. If that's the case, continuing to use a plunger each time isn't going to fix the underlying problem.
When You Need a Plumber
There are certain times when you have to call a professional to tackle the job. So when should you put down the plunger and pick up the phone?
The Plunger Isn't Working on Your Clog
If you have a working plunger but your toilet keeps getting clogged anyway, you may need a sewer camera inspection. This way, your plumber can identify the underlying problem and fix it.
The Problem Isn't Your Toilet
If the problem seems to go beyond your toilet, it may be your sewer line. In this case, using the plunger haphazardly may lead to more problems.
You may think chemical cleaners can fix that stubborn clog, but think twice before using one. Toilet plumbing is different from your shower or tub drains and strong chemicals can corrode your pipes and create toxic fumes. Using a corrosive drain cleaner can also cause toilet bowl cracks.
Instead of reaching for a chemical cleaner, call a plumber.
Should You Call a Plumber if Your Toilet Keeps Clogging?
If your toilet keeps clogging, there is likely an underlying issue that you need to fix. Instead of risking damage to your toilet or your plumbing system, call a plumber.
You can fix a clog if yourself if you know what you're doing, but there are times when it's best to leave it to a professional. The problem may be in your sewer lines. If it is, only a plumber knows the proper methods of finding the problem and has the right tools to fix it.
Are you in the Kansas City area and you need a professional plumber to fix that stubborn clog? Contact us today to request your free quote.
Serving Kansas City, Overland Park, Independence, Shawnee, & Surrounding Area's
© 2017-2023 JohnthePlumberKansasCity.com
– All rights reserved. –
Information on this website may not be re-used without prior written consent from John the Plumber LLC.
Monday-Saturday: 8:00am to 8:00pm
Sunday: Closed Normal Appointments
Emergency Client Service Available
Kansas & Missouri Licensed, Bonded, Insured
Master Plumbing Contractor 204249