John the Plumber's Blog
Plumbing Articles from Kansas City, MO & KS
How to Install a New Dishwasher (And Why It's Best to Hire a Plumber)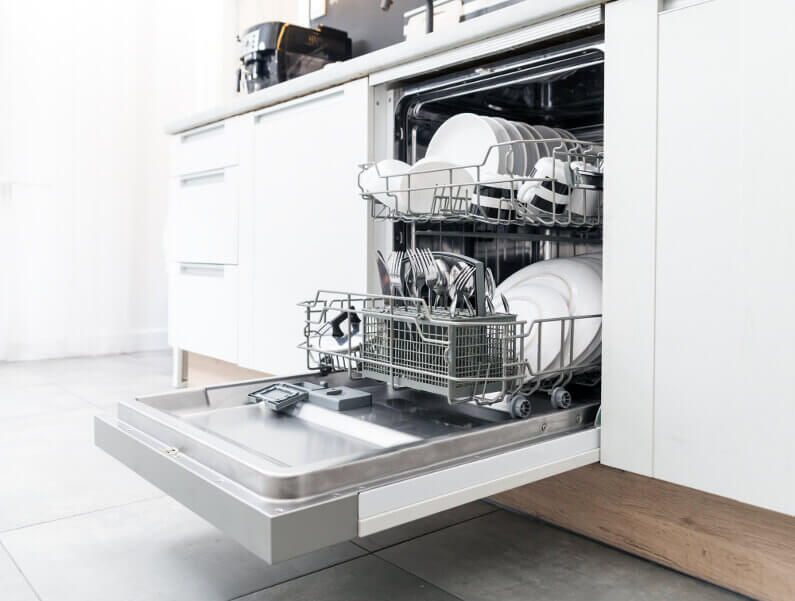 You're a respectable homeowner who takes pride in maintaining your property. You've got some extra spending money to invest, too. So, you've decided it's time to spruce up the place a little bit.
Well, consider this study about modern homeowners. It indicates they're happiest with the results of kitchen remodeling above other interior home projects.
You agree, and that's why you've recently decided to give your kitchen an upgrade or two. In particular, you want to invest in a brand new dishwasher to increase your kitchen's functionality.
If you're wondering how to install a new dishwasher, you've come to the right article. The first thing to note is that it's likely in your best interest to hire a professional to handle this home improvement project. Keep reading for a more detailed guide about getting that upgraded dishwasher installed.
Deciding Whether It's Time to Invest in a New Dishwasher
When upgrading any home kitchen, it's worth looking at the appliances in use. Perhaps your existing dishwasher has started to lose its efficiency in recent years.
Investing in a higher-powered machine can save you time and money over time. This is true, in particular, when your upgraded dishwasher is eco-friendly and saves on the amount of energy used. Soon enough, you might even notice a reduction in your utility bill!
Sometimes, the age itself of a dishwasher is enough of a reason to replace it. This would be the case, for instance, if your dishwasher needs a simple repair. Upon researching and contacting a plumber, you learn that the parts needed aren't even made anymore!
Of course, you might just be tired of your rusted, leaking, or simply broken dishwasher. No matter why you're looking to replace this crucial kitchen appliance, do it the right way. Start by doing plenty of research about your potential dishwasher brands and models.
Be Smart About Choosing and Financing Your New Dishwasher
If you're going to spend the time and money to upgrade your dishwasher, you might as well ensure you're making a sound investment. The thing is, dishwashers throughout the world generated over $6.2 billion in sales in 2018 alone. That's a huge market to navigate when it comes to available brands and models!
That's why starting with a little bit of online research can be so convenient. Comparing online reviews of previous customers of different brands can be of particular value.
Perhaps you already have a certain favorite of the top dishwasher brands. Browse through their models in detail to compare and contrast prices and features.
Don't be afraid to spend a decent chunk of change on such a vital piece of equipment for your home, by the way! Many major retailers even offer financing options for families who want to pay off their new appliances in portions. Note, it might be in your best interest to be willing to pay for a professional installation, too.
Is Installing a New Dishwasher a Do-It-Yourself Project?
Deciding whether to handle installing your new dishwasher by yourself depends on a number of things. First, you're likely thinking about whether the cost of paying a professional to install it is in your best interest.
Note that it's only worth doing this project yourself if you already have both plumbing and electrical experience. Before you even install the new dishwasher, of course, you'll need to properly get rid of the old one.
Doing so means you'll need to start by turning off the water that leads to the dishwasher. In most homes, this valve is found under the sink.
If you aren't certain how to navigate these plumbing systems, it's time to hire professionals. Plus, to uninstall and reinstall dishwashers, you also need to turn off the electricity that runs to and from them. Then, you'll have to unscrew and dismantle the current dishwasher before you even start to add in the new one!
In addition, consider the resulting cost of any potential accident – to yourself, someone else, or the house itself. If your inexperience leads you to make a mistake, you might be facing an even more expensive home repair project!
Professional Plumbers Will Know How to Install a New Dishwasher the Right Way
Instead of trying to handle this project alone, leave it to the experts who successfully install new dishwashers on a regular basis. (Besides, proper plumbing companies are well-insured in the unfortunate case of an accident on the job, so you wouldn't be liable.)
That way, you won't be putting yourself – or others – at risk, and the job will get right the first time. There's a reason experienced plumbers like ours have gone through intensive technical training. When you pay for skilled labor, you pay for the peace of mind that comes with that knowledge and expertise.
Take the Time to Choose the Right Plumbing Service
The last thing to remember about hiring professionals to install your dishwasher is that of the quality of service. Don't trust just anyone to move appliances in and out of your home.
Instead, check out your potential plumbers to ensure they're available, experienced, and friendly. Is it clear that you, as their customer, are their top priority?
They should also be transparent about the quality of work you're getting for the price you pay. For a specific example, check out this article about how much plumbers should cost you. Don't get taken advantage of just because you weren't willing to do the research.
Hire Reliable Plumbing Services in Your Area Today
Now, you know how to install a new dishwasher without risking damage to yourself, others, or your home. You recognize the value of hiring experienced plumbers to handle this project on your behalf.
That's why we encourage you to learn more about the services we have to offer. We prioritize helping families like yours live in the comfort and ease of living they deserve.
If that includes installing a new dishwasher for your kitchen, we encourage you to contact us at your convenience. First, feel free to learn more details about our general plumbing repair services available now.
Serving Kansas City, Overland Park, Independence, Shawnee, & Surrounding Area's
© 2017-2023 JohnthePlumberKansasCity.com
– All rights reserved. –
Information on this website may not be re-used without prior written consent from John the Plumber LLC.
Monday-Saturday: 8:00am to 8:00pm
Sunday: Closed Normal Appointments
Emergency Client Service Available
Kansas & Missouri Licensed, Bonded, Insured
Master Plumbing Contractor 204249