John the Plumber's Blog
Plumbing Articles from Kansas City, MO & KS
What Is the Best Way to Clean a Garbage Disposal?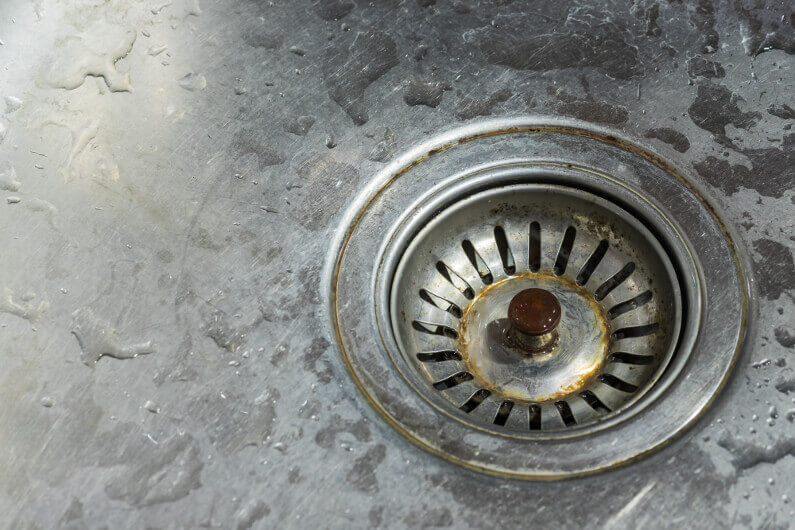 Whether you own a home or rent it, maintaining a clean abode is important. Every room should get weekly or bi-weekly chores performed. How often you clean a certain area depends on the type of room and the amount it's used.
Two of the most popular rooms in a home are the bathroom and kitchen. A bathroom serves its purpose by providing a space to answer nature's call and cleanse our body.
The kitchen offers a place to store groceries, cook food, and enjoy meals. The kitchen is the heart of the home.
But when it comes to keeping a tidy kitchen sometimes we forget to do simple, but necessary tasks like scrubbing the sink and garbage disposal.
A clean garbage disposal helps it continue to work. Yet it also prevents a clogged drain. While there are clearly some things that should never be put down a disposal, normal daily use can still cause clogs.
Follow along as we discuss how to maintain a clear drain and clean garbage disposal.
What Is a Garbage Disposal?
The garbage disposal unit is a kitchen appliance installed underneath a sink and attached to the waste pipe for the grinding up of food.
Why are Clear Drains Important?
One of the most important features of a home is the plumbing system. If your home's pipes are older, this could lead to problems.
Drains allow water and waste to flow efficiently through your fixtures. If your drains aren't clearing out completely, there's a blockage.
Clogged drains need clearing, or the problem will get worse. Over time a blocked drain backs up your plumbing system causing your fixtures to become out of order. Overflowing and flooding in your fixtures or toilets could damage your property. Plus it creates a health risk with the growth of mold and mildew.
Calling a professional plumbing service for help is an option. But there are a few things you can do to prevent your drains from clogging.
How Do You Prevent Clogged Drains?
When drains take longer to empty or don't empty at all, it's clogged. But the smell of sewage coming from your fixtures indicates a blockage.
Routine cleaning prevents pipes from clogging. Removing hair from the sink or shower drain helps. Never flush items like feminine hygiene pads or paper towels. Regular cleaning of the garbage disposal is good too.
If you notice these tasks aren't helping, then getting a professional plumbing company to snake the drains will help.
How Do You Clean a Garbage Disposal?
Cleaning the garbage disposal is a stinky, but necessary job. If you want to have a clean drain the garbage disposal, needs regular attention.
But once you learn the steps to clean it, you'll wonder why you ever avoided it.
Use Caution When Using Certain Items
Garbage disposal cleaning may be performed using a variety of products. But to protect your garbage disposal use caution with certain items.
Depending on the age and model of your garbage disposal, the use of ice to loosen built-up grime might harm your appliance. While it may work like a charm on another.
The same is true for people who choose to use bleach. It is a preference to kill bacteria. Yet if it splashes out of the garbage disposal or sinks it could get into your eyes. If you're going to use it, consider wearing protective goggles.
When gathering materials to clean a garbage disposal, do some research. The possibility of damage isn't worth the excitement of a new fad technique. Sometimes sticking with what works is best.
1. Gather Necessary Materials
When preparing to scrub your garbage disposal you must gather the cleaning products. There isn't a set-in-stone list of cleaning supplies. But the items listed below get used most often.
Baking soda (optional)
Citrus peels or lemon juice (optional)
Cleaner (optional)
Long-handled brush
Old toothbrush (optional)
White vinegar (optional)
Shopping for your cleaning tools shouldn't break the bank. In fact, you could visit a dollar store for them.
2. Pre-Scrub the Garbage Disposal
The opening to the garbage disposer gets gross, so giving a scrubbing helps. Grab an old toothbrush. Spray some cleaner or dish detergent. Allow it to sit for about 5 minutes.
Return to the opening. If the splash guard is removable, then take it out. Gently scrub it with an old toothbrush.
Rinse the toothbrush and garbage disposal with hot water.
3. Sprinkle Baking Soda
Pick up a box of baking soda and sprinkle 1/2 a cup into the garbage disposal. Next, pour 1 cup of white vinegar onto the baking soda. Allow it to fizzle for 10-15 minutes.
Return to the garbage disposal with your long-handled brush. Scrub the inside of the garbage disposal.
4. Rinse With Hot Water
Rinse the garbage disposal and long-handled brush with hot water.
5. Add Citrus Peels
Some people have a preference for orange peels. But it's up to you. Using lemon, lime or grapefruit will bring an added freshness to your garbage disposer.
Cut the fruit into wedges and toss them into the disposal. Turn on the hot water and garbage disposal.
6. Re-Rinse the Garbage Disposal
After grinding up the citrus peels re-rinse the sink. Be sure to clean out any particles that splashed out of the disposal.
7. Enjoy the Freshness
Congratulations! Your garbage disposal is clean.
Step back and pat yourself on the back.
Put away your cleaning supplies, wash your hands, and enjoy the rest of your day.
Time for the Professionals
Now that you've learned the best way to clean your garbage disposal, it's time to level up. Your plumbing system is the heart and veins of your home. When it's not working right, your daily life will suffer.
Contact us today to discuss our Kansas City drain cleaning services.
Serving Kansas City, Overland Park, Independence, Shawnee, & Surrounding Area's
© 2017-2023 JohnthePlumberKansasCity.com
– All rights reserved. –
Information on this website may not be re-used without prior written consent from John the Plumber LLC.
Monday-Saturday: 8:00am to 8:00pm
Sunday: Closed Normal Appointments
Emergency Client Service Available
Kansas & Missouri Licensed, Bonded, Insured
Master Plumbing Contractor 204249